**** En français plus bas ****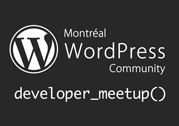 Hey WordPress Montreal!
Instead of the usual developer meetup, we decided to organize a "Plugin Slam" event this month!
This plugin show-and-tell event will give you a chance to share a plugin you love or that does something cool, and tell the group why you recommend it. It could even be a plugin you've developed yourself. If you like, you can share a list of your must-have plugins that get installed on every site. Everyone will get five minutes to present, but if you'd rather just watch that's OK too.
If you'd like to present, please fill out this form with a link to the plugin(s) you want to bring to the show-and-tell. You can also submit a link to the plugin so we can load everything up in advance on one computer connected to the projector. You may also submit a site where you can see it in action.
If you plan to attend please RSVP on the Facebook event listing for the meetup.
If you want to be automatically facebook-invited to future events please join our Facebook group. For more reliable event announcements, please sign up for our email newsletter.
TIME AND LOCATION
Thursday February 27th, 2014 at 7:00pm
TP1 (Thanks, TP1! http://www.tp1.ca/)
1410 Stanley, Suite 500.
Montréal , QC , H3A 1P8
Google Map: http://g.co/maps/hf2a3
Just a reminder to bring your laptop if you have a specific problem you need help with.
———————————————————————–
Rebonjour WordPress Montréal!
Au lieu de notre rencontre technique mensuelle, nous avons décidé d'organiser un "Plugin Slam".
Cet événement vous donnera l'occasion de présenter votre ou vos plugins préférés, et d'expliquer au groupe pourquoi vous le recommandez. Vous pouvez même présenter un plugin que vous avez vous-même développé. Si vous le souhaitez, vous pouvez partager une liste des plugins que vous considérez comme essentiels sur vos sites. Tout le monde aura cinq minutes pour présenter, mais si vous préférez juste regarder c'est OK aussi.
Si vous souhaitez présenter, s'il vous plaît remplir ce formulaire avec un lien vers le plugin(s) que vous souhaitez apporter à l'événement. Vous pouvez également soumettre un lien vers le plugin pour que nous puissions charger tous les plugins à l'avance sur un ordinateur branché à un projecteur. Vous pouvez également soumettre un site où vous pouvez le voir en action.
Si vous prévoyez assister à s'il vous plaît confirmer votre présence sur la page de l'événement sur Facebook.
Si vous souhaitez recevoir des invitations Facebook au futur, svp joignez-vous à notre groupe Facebook. Pour des invitations plus fiables, inscrivez-vous à notre infolettre.
QUAND?
Jeudi le 27 février 2014 à 19:00
OÙ?
TP1 (Merci, TP1! http://www.tp1.ca)
1410 Rue Stanley, Bureau 500.
Montréal QC H3A 1P8
Carte Google: http://g.co/maps/hf2a3
Apportez votre ordinateur portatif si vous avez besoin de nous montrer quelque chose de spécifique.