Français ci-dessous.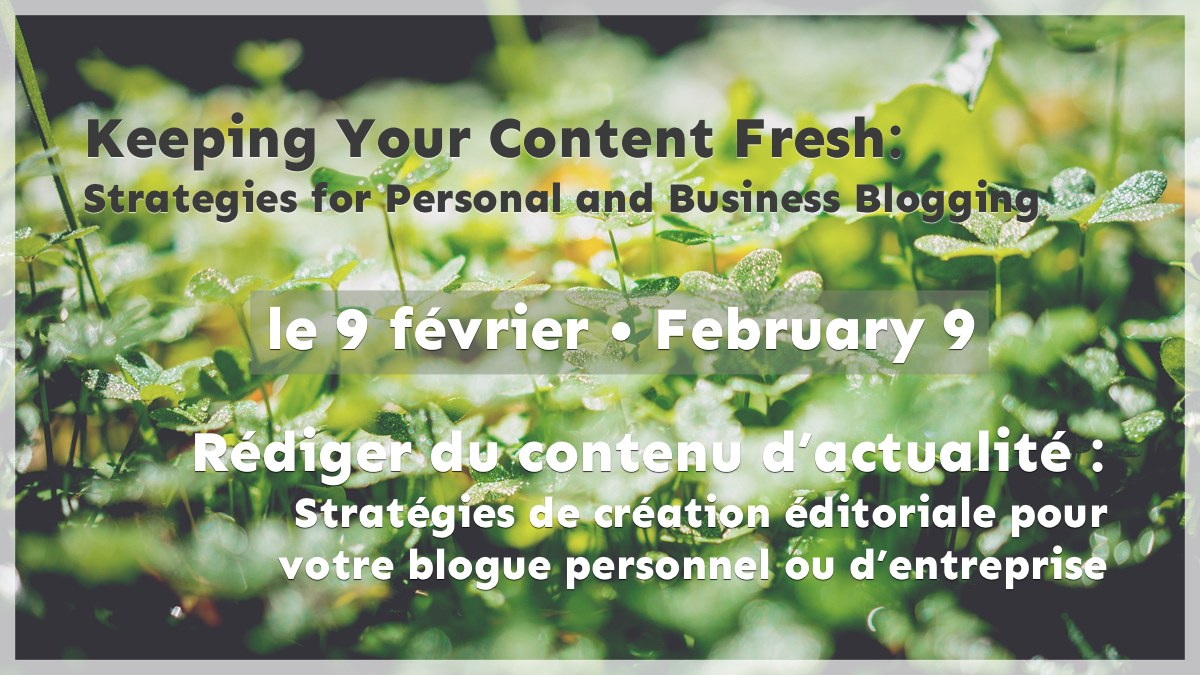 Keeping Your Content Fresh: Strategies for Personal and Business Blogging
Our expert panelists will share their experiences and tips for crafting compelling content to keep your blog fresh and engaging. Whether you're blogging for fun or writing for a corporate blog, you'll come away with practical ideas you can use right away to reel in readers.
Panelists:
Andrea Zoellner is a blogger, content consultant, and recent adopter of the oxford comma. She has a bachelor's degree in Journalism from Concordia University and a DEC in Communications. She is a freelance copywriter at Automattic and a marketing consultant at Viki.com, a video streaming service.
Dan Levy is Content Strategist at Unbounce, the landing page builder for marketers. A journalist by training and a marketer by accident, he previously served as Editor of the award-winning multiplatform magazine Sparksheet and as a research assistant at the Berkman Center for Internet & Society at Harvard University.
Jennifer Doré Dallas is a corporate dropout turned travel blogger at Moi, mes souliers, a freelance writer and community manager for diverse clients in different sectors. Passionate about the IT world and the mysterious realm of blogging, she has been navigating the WordPress interface for years.
Liesl Barrell is the co-founder and CEO of Third Wunder, a digital agency specializing in marketing for brands looking to change and disrupt how we do business around the world. She's an award-winning agency veteran, a seasoned writer, public speaker, and passionate community leader for women in technology.
The panel will be bilingual and questions taken in French or English.
Time and Location
Event: Keeping Your Content Fresh: Strategies for Personal and Business Blogging
Date: Tuesday, February 9, 2016
Time: 7:00-9:00 pm
RSVP: Required
Venue:
Centre cloud.ca (formerly RPM)
420 Guy St.
Montreal, QC H3J 1S6
Métro: Gare Lucien-L'Allier
If you want to be invited to future events please sign up for our email newsletter.