**** En français plus bas ****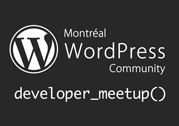 Hi everyone! We are having another edition of our mostly-monthly developer meetup on April 23rd. We hope you can join us this time as we are lucky to have Sara Cannon, an out-of-town guest, doing a unique talk for us!
If you plan to attend please RSVP on the Facebook event listing for the meetup.
If you want to be automatically facebook-invited to future events please join our Facebook group.
TIME AND LOCATION
Tuesday April 23rd, 2013. 19:00h
RPM
420 Guy St.
Montréal , QC , H3J 1S6
Google Map: http://goo.gl/maps/obkiO
WHO IS THIS FOR
While this talk is more developer oriented, it will not involve any coding so if you are interested in the topic, feel free to join us!
EVENT FORMAT
We will be hosting a talk on the topic below. If you'd like us to cover a specific topic on this or have topics you would like us to cover, feel free to let us know by commenting in this event!
TOPIC
The Future of UI: How Mobile Design is Shaping the Web
Web design is not an interactive brochure anymore. Smart mobile devices have forever changed the way we think and interact with websites. Now you have to consider an array of things you didn't have to worry about before, such as HiDPI graphics, UI/UX patterns, touch target sizes, gestures, and managing expectations. All the while not losing track of what's important: Content.
We're going to discuss the influence of mobile on design, trends, and implementation methods, as well as how touch is changing our lives. As designers and developers, we can benefit from learning about how mobile is changing the way we interact with websites, and what that means for the future of UI.
ABOUT SARA
Sara Cannon has a passion for art, design, and typography. She is Partner and Creative Director for Range – A design and development shop specializing in WordPress. Based out of Birmingham, AL, Sara is a WordPress core contributor, organizes WordCamp Birmingham, loves open source, her dogs, and a good beer. You can find her on twitter @saracannon or writing on her blog sara-cannon.com. "Life is short, art is long, typography is everything, code is poetry."
Just a reminder to bring your laptop (if you have one) as well as some questions or coding/development issues you'd like to talk about as a group. If you have a lesson you learned that you'd like to share with the group bring that along too.
---
Salut tout le monde! Nous avons une nouvelle édition de notre rencontre quasi mensuelle qui aura lieu le 23 avril. Nous espérons que vous pourrez vous joindre à nous, car nous avons la chance d'avoir une présentation par Sara Cannon, une invitée spéciale!
Si vous prévoyez assister à s'il vous plaît confirmer votre présence sur la page de l'événement sur Facebook.
Si vous souhaitez être invité automatiquement à des événements futurs s'il vous plaît joindre notre groupe Facebook.
QUAND?
Mardi le 23 avril 2013 à 19:00
OÙ?
RPM
420 Rue Guy
Montréal , QC , H3J 1S6
Carte Google: http://goo.gl/maps/obkiO
QUI?
Malgré que la présentation soit orientée vers les développeurs, il n'y aura pas de discussion sur du code. Donc, si vous souhaitez participer, n'hésitez pas à vous joindre à nous!
COMMENT?
Il s'agit d'une présentation en anglais sur le sujet mentionné ci-bas. S'il y a un sujet que vous préférez ou si vous désirez en suggérer un nouveau, faites-nous le savoir dans les commentaires!
QUOI?
L'avenir de l'interface usager : Comment le design mobile influence le web
Le design web n'est plus une brochure interactive. Les appareils mobiles intelligents ont changé à jamais notre façon de penser et d'interagir avec les sites web. Maintenant, vous devez considérer un ensemble de choses que vous n'aviez pas à vous soucier avant comme les graphiques HiDPI, les modèles UI / UX, la taille des cibles tactiles, les gestes et la gestion des attentes. Tout ça en ne perdant pas de vue le plus important : le contenu.
Nous allons discuter de l'influence de la téléphonie mobile sur le design, les tendances et les méthodes de mise en œuvre, ainsi que comment l'interaction tactile est en train de changer nos vies. En tant que concepteurs et développeurs, nous pouvons bénéficier de l'apprentissage sur comment l'interaction que nous avons avec un téléphone mobile change la façon dont nous interagissons avec les sites web, et ce que cela signifie pour l'avenir de l'expérience de l'utilisateur.
À PROPOS DE SARA
Sara Cannon a une passion pour l'art, le design et la typographie. Elle est partenaire et directrice artistique chez Range, une boutique de design et de développement spécialisée dans WordPress. Basée à Birmingham, AL, Sara contribue régulièrement au code de WordPress, planifie WordCamp Birmingham. Elle aime le logiciel ouvert, ses chiens, et une bonne bière. Vous pouvez la trouver sur twitter @saracannon ou sur ​​son blog sara-cannon.com.
Rappel:
Apportez votre ordinateur portatif (si vous en avez un). Également toujours bienvenus: vos questions et vos expériences à partager avec le groupe.